Synbiont ULTIMATE Multi-Purpose Cleaner offers a safe alternative to toxic cleaners
Synbiont ULTIMATE Multi-Purpose Cleaner can clean any surface in your home, office or business.
Synbiont chemistry is a super soap that cleans away harmful pathogens and is an environmentally friendly alternative to bleach and chlorine.
It is food-grade safe and can be used on or around perishable foods.
It is approved by Veterinarians and can be used freely around your pets without toxic concerns. Pet owners are finding multiple uses for this flexible product.
Stray bottle conveniently stores under any sink and ready to go when you need it. No pre-mixing or gloves need - just grab, spray and wipe clean.
Active ingredients: Blend of alkyl sulfonate and an alkyl sulfate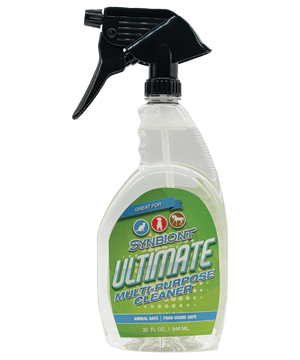 Customers
Homeowners

Businesses

Cleaning services

Pet owners

Kennels

Veterinarians

Breeders

Animal trainers

Traveling pet owners

Mobile grooming

Boarding facilities
Uses
Features / Benefits
Ready to use multi-wash, no mixing required

Food-Grade safe

No residue

Fragrance free, dye free, non-corrosive

Eliminates odors

Remains active for 7-21 days

Can be used on wood, marble, quartz, granite, tile, etc.

No protective equipment needed

Cleans on contact

Safe to use on or around family, pets, food, toys, equipment