Synbiont Kennel Wash offers a safe alternative to small animal cleaning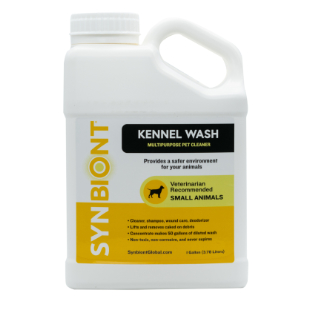 Synbiont Kennel Wash helps to clean away deadly viruses like canine parvovirus, as well as harmful pathogens that can be easily transferred from the dog park, footpaths, shows and trials to your animal and their surroundings.
Unlike traditional toxic sanitizing steps such as bleach or chlorine, Synbiont Kennel Wash allows for an environmentally friendly alternative to cleaning that doesn't require re-entry restrictions, is non-corrosive and can be used freely around your pets without toxic concerns.
Approved by veterinarians and used in commercial kennels, Synbiont Kennel Wash is a preferred alternative for multipurpose cleaning. From spraying on animals to surgical rooms, kennel crates to mobile pet grooming, pet owners are finding multiple uses for this flexible product.
With a recommended ratio of 1:50 (1 gallon of concentrate makes 50 gallons of multi-use wash), Synbiont Kennel Wash can be diluted and used in a variety of applications. Preferred application methods are spray bottles, hose-end sprayers or pump-up sprayers.
Active ingredients: Blend of alkyl sulfonate and an alkyl sulfate 36%
Available in: 1 Gallon, 5 Gallons & 55 Gallons
Customers
Small animal owners

Kennels

Veterinarians

Breeders

Animal trainers

Traveling pet owners

Mobile grooming

Boarding facilities
Uses
Features / Benefits
No residue

Remains active for 7-21 days

1 gallon of concentrate makes 50 gallons of wash

Safe if licked

Safe for washing animals

No protective equipment needed

Cleans on contact

Safe to use around eyes, ears, nose and mouth